If you are a camping freak, you know how important a tent is for your camping trip. Having a tent vestibule can make your trip more comfy and painless. A tent vestibules can be beneficial for serval reasons.
You can enjoy an extra storage space to place your muddy and wet boots, clothes, and extra camping gear when you are not in the use of the shelter. But, you can call a tent vestibule your camping mud room.
Tent vestibules come in different shapes and sizes. With a tent vestibule, you don't feel trapped inside a closed tent. It keeps you protected from scorching sun rays and rainfall.
You can enjoy mesmerizing natural beauty in all weather and much more.
Today, I will discuss a tent vestibule and its usefulness while camping.
A Tent Vestibule
A tent vestibule is a protected area outside the main tent body that provides additional space along the tent's sides, front, or back. You can use the space to store camping gear, shield from bad weather, cooking, or mud room.
If there is heavy rain and you don't feel safe cooking inside a tent to avoid carbon monoxide poisoning, this extra space gives you an advantage.
A tent vestibule is the same as a car porch outside your house, where you can place your muddy shoe, camping gear, and other stuff you don't want to take inside your tent.
How Many Types of Tent Vestibules are there?
Different tent vestibules are based on size, shape, and style. Here are the three most commonly used tent vestibules;
1. Front Vestibule
As it is clear from its name, front vestibules cover the front side of the tent. The front vestibule is ideal if you are going on a solo camping trip. Depending on your tent entrance, vestibule design varies in size and shape.
Front vestibules are usually large and can act as a covered porch to store your bulky gears.
Front vestibules can be used to store gear, cook, and sit. As it is at the front door, you must be careful that it won't block your way. For this purpose, what you can do is don't store many gears, keep the middle path clear, and try to store gear on either side.
2. Side Vestibule
The side vestibules are located on either side of your tent. Most tents with a side vestibule have two doors. You can enjoy two vestibule spaces, and you can utilize one side vestibule as an entrance or exit and the other side as gear storage space.
Side vestibules are ideal for two-person tent camping as more space inside the tent is needed to store their gears.
If you are planning a trip with your friends and family, grab a side vestibule tent so you don't have enough space for gear storage.
3. Add On Vestibules
Most tents come with vestibules, whereas there are tents without a vestibule. You can buy a separate vestibule and attach it to your tent.
Attaching a vestibule is super easy, whether you have a small tent or a big one. Please attach it to your main tent body and expand outwards to provide a shaded area.
Tent Vestibules Usage
A tented room can be used in many ways. First, a tent vestibule isn't necessary to take with you on all your trips, but it's always useful, especially when camping where it can rain. The vestibule tent uses the available space for sleeping and storage. Another rain fly has holes built into some tents. This means you can change the configuration of the tent if you want or don't need the tent with a vestibule for a camping trip.
Vestibules can be great for enjoying the weather and sightseeing, but that's not all. Other benefits make the tent vestibule worth every penny.
Tent Vestibules as a Mudroom
Every time you step out of your tent to walk or carry water, you may find that your shoes or clothes are covered in mud or snow, and your raincoat is wet. Entering the tent in this way is abominable and unclean. But you can't just drop your stuff to go swimming.
If you have a room in front of the tent, you don't have to worry about bringing dirt into the tent because you can leave your wet gear there.
Not only does this vestibule area give you a place to store your muddy gear, but it also doubles as a dressing room where you can remove and clean up your top before entering the tent.
Tent Vestibule as a Cooking Area
Cooking inside a tent has never been a good idea. When cooking in a tent, there are a few things to look out for. It would be best if you made sure that the tent is well ventilated and that there is no buildup of carbon monoxide in the tent. Place the cooking stove away from the tent fabric.
Because tent cooking can set the tent on fire, there is a risk of carbon monoxide poisoning from various camp stoves. That is, you can't cook in a tent without risk. But cooking in front of a tent is a bit better, especially in the winter.
A tent vestibule gives you the advantage of cooking under a covered space without the risk of filling your tent with smoke.
Tent Vestibule as a Storage Space
The added storage is great for freeing up space in your tent and keeping it clean and dry. The front room is even more important when camping with someone else in a tent.
Additional space outside the tent to store gear provides space for people inside the tent. Finding dirt in your tent and cleaning it is a pain.
So you can get all the dishes and utensils out, sleep peacefully, and have enough space for your sleeping bag.
If you are camping with a small generator, you can use this location to set up your generator on a rainy night. The power supply is less annoying but protects against rain and dust.
Tent Vestibule as a Weather Protector
What would you do if heavy rainfall hit your tent at midnight? Pack your stuff and get into your car. Instead, you can have a tent with a vestibule. It will protect your tent from rain and heavy storm.
Most vestibules are waterproof and protect your tent front from wind, rain, and snow.
With a normal tent, the tent's opening in the rain means that water enters the tent directly.
But having a tent with a vestibule, whether it's light rain, snow, or strong winds, not only protects you from inside but also provides an ideal place to pull up a chair and enjoy the rain.
Are Tent Vestibules Affordable?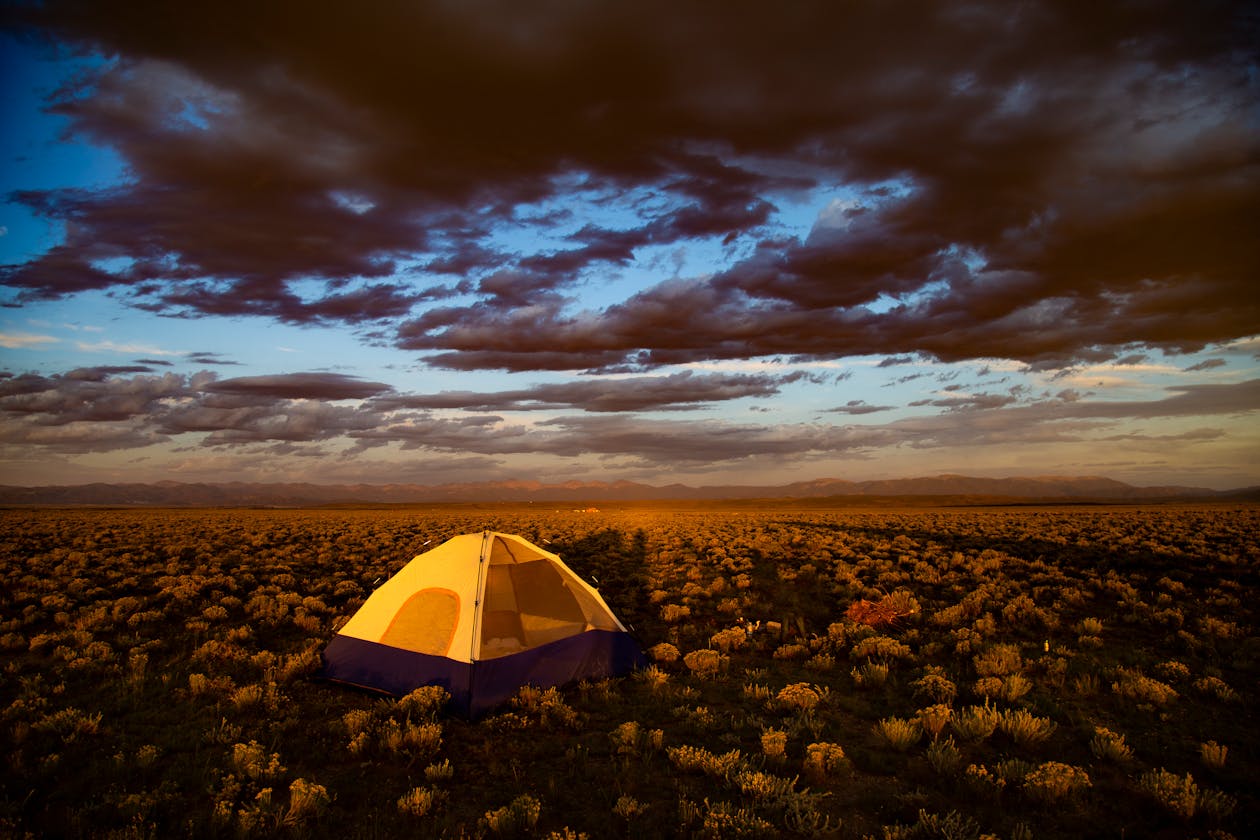 A tent with a vestibule will cost more than a simple tent.
Tents with vestibule are going to cost more compared to regular tents. The additional material and labor will add to the price.
But if you look around, you will find more affordable options that you can buy. If you are tight on budget, you can also make your DIY vestibule.
Yes! Making a tent vestibule on your own is indeed a brilliant idea. If you have the right tools and material, it's the best price vestibule you can get.
It takes 5-7 minutes to construct your vestibule in the size you want.
How to Construct a DIY Tent Vestibule
Measure your tarp: Place your tarp over the entrance of your tent, ensuring it has a sufficient length along the sides of the tent and the front.
Secure the tarp/plastic sheet: Secure the tarp or plastic sheet by using sandbags or rocks if required.
Position flagpole or stick: The flag pole or stick should be placed in the center of the tarp and secured.
Tie the tarp or plastic sheet: Using the tarp's corners, tie them to the flagpole or stick them with the rope.
Completed vestibule: The vestibule is now completed and can be used with your tent.
The DIY vestibule option offers more functionality compared to a regular vestibule. You can design the vestibule according to the size you need and the amount of storage space required.
Wrap Up!
A tent vestibule is a covered area outside your tent that you can use to store your gear, cook, or sit back and enjoy camping.
After reading this entire article, I am sure you now understand what a vestibule is and know whether you need a tent vestibule.
A vestibule is not important, but having a good vestibule space makes things better. It offers an additional space to enjoy, cook and store your equipment. A vestibule tent makes camping more enjoyable and less stressful.