Whether it's the castle or beautiful nature that attracts you, camping in Bamburgh can be an incredible experience. This small village in the north of England has plenty to offer. Sandy beach, Golf Club, St Aidan's church, and Lighthouse is just some of the things you may see here.
This place is one of the rare spots on earth where you can see a castle very close to the sand beach. If you are into photography, this place is a must-visit. Bamburgh is near Northumberland National Park, so you can visit that gem as well.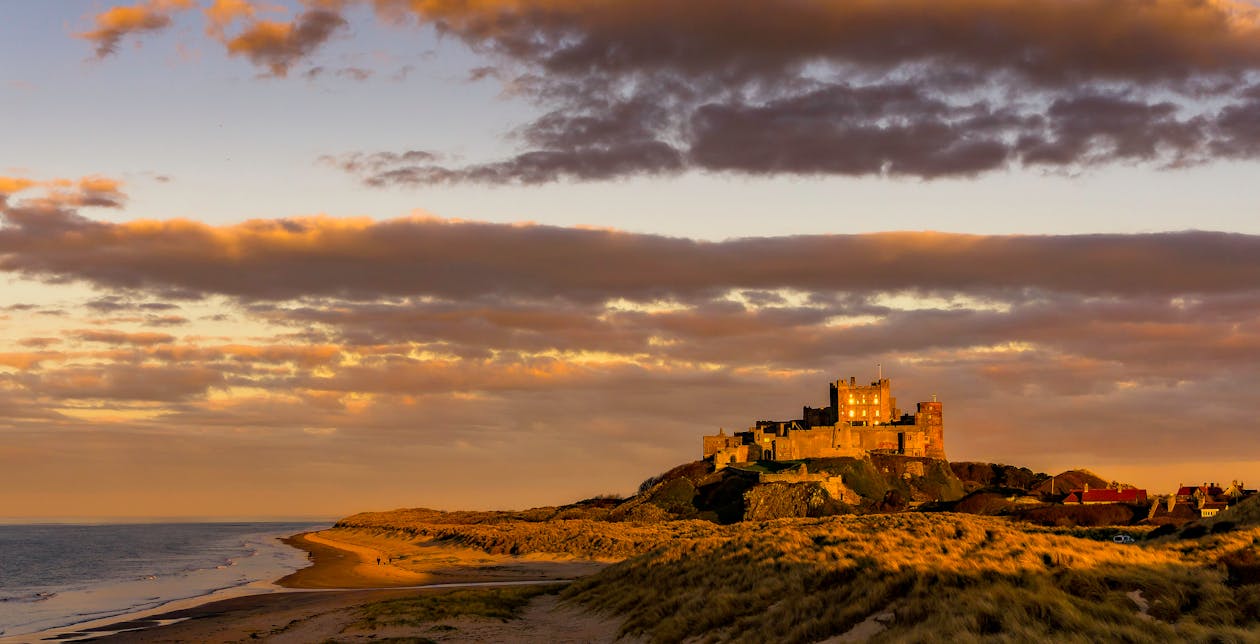 Wild camping: Is it legal in Bamburgh?
As you may know, wild camping is illegal in England so it's not legal in Bamburgh either. That being said, people are still wild camping regardless of the law. If you decide to wild camp anyway, here are some rules you should follow:
Always ask for permission from the landowner if possible
Don't leave your trash in the nature
NEVER start a campfire, use a storm cooker instead
Don't camp near a settlement
Don't camp near the castle
Basically, try to remain as invisible as possible.
Explore more: Best beach campsites in the UK
"The beach is so clean because Northumberland Wildlife Trust & Northumberland County Council have had a project to tidy up the coast (amongst other things) running up there for a couple of years now!"

– wonder_aj on Reddit
Best time for camping in Bamburgh
Winters can be pretty harsh with low temperatures and strong winds. Nature and everything around the castle look magical, so you might consider staying in a cottage or some indoor place.
If you want to hike or enjoy some outdoor activities, aim for the summer. Anywhere from early July to early September is great as the average temperatures are at 18-20 Celsius degree.
Things you should bring with you:
Camera or smartphone – Plenty of potential material waiting for you.
Reserve socks – Especially if you plan to visit the sand beach.
Raincoat or windbreaker – The weather can get really messy while camping in Bamburgh.
Check our camping gear recommendations.
5 campsites in Bamburgh you can stay at
If you'd avoid all the hassle that comes with wild camping, we got something for you. There are a few official campsites near Bamburgh. Some are for tents, while some are for caravans and motorhomes only. Take a look at our list.
Just 10 minutes walking distance from the Bamburgh castle with affordable prices. Waren Caravan & Camping park has everything you need, from play areas for children to a family pub and restaurant. It's affordable, and you can either pitch a tent or park your caravan, whatever you prefer.
Things to do around
Visit Bamburgh Castle
Take pictures or record movies
Visit Holy Island of Lindisfarne
Dine in a treehouse at Alnwick Garden
Pricing:
The price is approximately 20£ per night. This includes 2 people, 1 car, and you don't pay anything extra for children under 5. As the prices can change over time, we suggest checking their website.
Address:
Waren Mill, Bamburgh NE70 7EE, UK
This campsite is a bit different than what you are used to. That's because this isn't a classic campsite, but glampsite instead. You may be wondering what's a glampsite? Glampsite is a way to camp in a tent that's already set up and has everything you need.
In this case, that includes luxury Lotus Belle tents with real beds. Cooking and BBQ facilities, toilets, and hot showers. So if you want to try something different, you should definitely try this type of camping.
Things to do around
Learn to surf at NE Surf
Go for a boat trip at Billy Shiel's Boat Trips
Visit Alnwick Castle
Try the local cuisine in one of many restaurants nearby
Pricing:
Since glamping is actually a word made out of "Glamorous" and "Camping", the price is a bit higher than what most of us are used to. However, it's a new experience that's worth trying. Usually, one night will cost you approximately 125£, but you should check the price on their website.
Address:
Glororum, Bamburgh NE69 7AW, UK
The Budle Farm offers a wide variety of accommodations for everyone. You can choose from tent pitches, motorhomes, caravans, or even huts and bunkhouses. Before you ask, yes, there is unlimited hot water in the showers.
Other facilities also include washing-up areas, fridges, toilet blocks, and more. There is plenty of spaces for tents, so you don't have to worry about not being able to find a spot.
Things to do around
Visit Warkworth castle
Ideal place for bird watching as the Farne islands and Lindisfarne has some rare bird species.
Explore sea caves
Go sea diving
Pricing:
The prices depend on how big a tent pitch you are looking for. Also, it depends on the type of accommodation. The prices start from 14£ per night but check the full prices here.
Address:
B1342, Bamburgh NE69 7AL, UK
The Fowberry Farm is a working farm that's also been a Caravan Club since 1978. Recently, they are also Motorhome Club. There are certain facilities available on the spot such as shower block and toilet. While there are no tent pitches, you might actually ask the owners if they would let you pitch your tent for a fee.
The farm is surrounded by a beautiful Northumbrian landscape so make sure you bring your camera with you. Across the farm, you'll be able to see the Farne islands. There is a flock of Poll Dorset sheep and Aberdeen Angus cattle that makes this place picture-perfect.
Things to do around
Explore the coast
Visit Seahouses
Take a trip boat
Pricing:
The pricing mostly depends on the period you are visiting. For example, January to March will cost you 22£ while April to September will cost you 28£. All facilities are included in pricing, however, there are extra charges for an extra person or a vehicle.
Address:
Fowberry Farm, Bamburgh NE69 7AT, UK
Glororum Holiday Park provides a completely different way to camp. We can consider this more of a resort than a campsite. However, it's still a caravan holiday park, and it's actually the closest one to Bamburgh. The views from the park are beautiful.
There is a small shop, a skateboard park, an on-site warden, a football pitch, and much more. We'd say this is a good location if you are coming in a group of friends or with a family.
Things to do around
Play in the skateboard park
Play football
Enjoy the castle views
Pricing:
The pricing has not been disclosed on the website, however, we managed to find a listing on a third-party website where the price stands at 30£ during the low season and 40£ during the high season. The only official way to book it seems to be through the phone, check it on their website.
Address:
Glororum, Bamburgh NE69 7AW, UK
Conclusion
This small village has much to offer for a camping trip. Make sure you visit one of the most beautiful castles in the country. Bring some kind of camera with you as you can create perfect memories here. Remember, wild camping is not allowed, but if you still decide to do it, don't harm nature.