French Alps are one of the best camping places. The weather varies a lot, from hot summer months in the southern parts of the alps to very cold winter months in the northern area. You can go camping in French Alps year-round.
You can visit the French Alps all year round and have a great time. Generally, most people will go during the winter months but you should definitely visit during the summer months as you can take a swim in crystal clear lakes.
We have made a list of the 5 best official campsites in the French Alps, so make sure you keep on reading.
Weather in French Alps
When you are camping in the mountains, you must take extra care since the weather can get pretty bad and there are some animals to avoid. It's not any different in the French Alps as the Weather during winter can be pretty harsh and cold.
The best weather is mostly in the southern parts of the French Alps. These parts can have up to 300 days of sunshine, which is quite a lot if compared to approximately 150 days in the northern parts of the French Alps.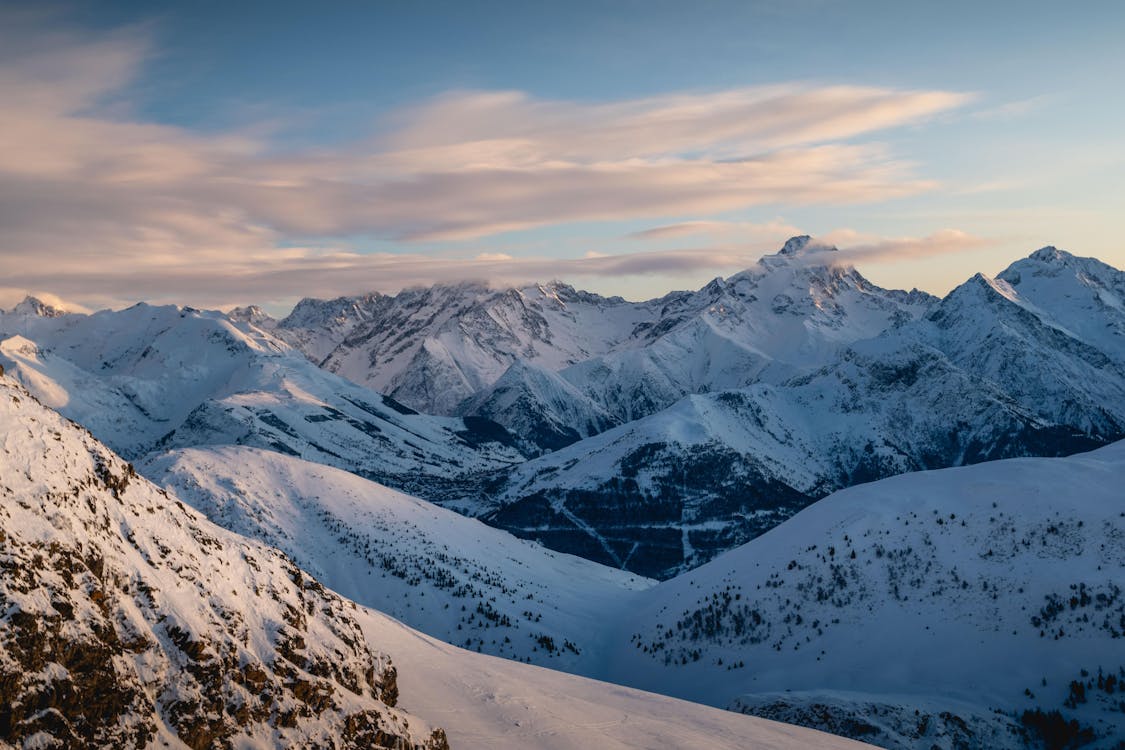 During the summer months, some parts of the Southern French Alps can reach temperatures up to 35 degrees Celsius (95F). If you combine this temperature with plenty of crystal clear lakes, you might even get a suntan.
During the beginning of November, it usually snows and stays that way until the beginning of May. If you don't like very cold temperatures, avoid January and February as they are the coldest. However, if you love skiing, these two are the best months to enjoy such activities.
Official campsites in French Alps
As we have previously mentioned, we have decided to create a list of the 5 best official campsites in French Alps for you. They are in different price ranges, so everyone should be able to find something on the list that fits them.
Les Marmottes is an awesome camp to stay at if you are visiting the French Alps. It doesn't matter if you are camping with a motorhome or a tent, Les Marmottes got you covered.
The prices are affordable for everyone and the facilities include:
Picnic & BBQ tables
Table tennis, table football & bunch of different games for children
WiFi
Washing & Dryer machine
Sanitary room with access for disabled people
You can also check out the campsite map on their website.
Sitting right in the middle of Chamonix Mont-Blanc valley, this campsite is an awesome spot for hikers since it's approx. 100m away from the start of the gr5 tour that goes through Mont-Blanc.
The prices are more than affordable, and there are plenty of facilities available:
Restaurant
Sports shop
Tobacconist
Bakery
Cheese and Charcuterie
Toilets
When you arrive you'll get a guest card which allows you to use the bus through the valley for free.
If you are looking for an ideal official camping spot with plenty of different facilities, take a look at Les Arolles. It's 450 meters from a bus stop, 600 meters from different shops and you can start hiking right outside of the campsite.
The prices are very affordable, but it's not possible to reserve your stay upfront.
Facilities included are:
WiFi
Hot water
Telephone box
Electrical energy
Paid luggage storage
Customized access for disabled people
Guest cards with plenty of discounts
Aiguille-Noire is a great campsite both when you are visiting with your family or when you are going along with a tent in your backpack. It offers everything, from apartments, caravans, furnished tents, bungalows to tent sites.
It's one of the most reviewed places and we can totally see why. It has a lot to offer and some of the facilities are:
Playground for the children
Wellness
Foods shop
Volleyball court
Table Tennis
Swimming pool
Sauna
Toilets
Washing & Drying machine
WiFi
Ice freezer
Do you think they have more than enough facilities? Well, there are plenty more.
Finally, the fifth official campsite on our list is available both in the summer and winter months. It's located at the foot of the French Alps ski slopes and at the edge of the Nordic base.
There are over 140 tent camping spots available on completely flat ground. The facilities included are:
Heated sanitary facilities
Laundry
Catering
Free shuttles
Restaurant (During summer)
Nordic park
Ski lifts
If you would rather stay inside, it's also possible to book dormitories that even come with breakfasts in the offer. This is an ideal campsite both in the summer where you can swim in a lake or in the winter when you can ski.
Is it legal to camp in French Alps?
Generally, it is illegal to camp outside official campsites in the French Alps, however, if you get the land's owner permit then it's okay.
That being said, the practice of the law is not like that. Camping in the wild is generally well-tolerated, but only if you follow certain rules:
Do not stay at the same place for several nights, move as soon as you wake up.
Do not camp near buildings, villages, or roads. Try to keep a "low profile".
If you decide to camp in the wild, do not pitch your tent before dusk and take it down as soon as it's dawn.