The Pyrenees are the naturally formed mountains that happen to be right between Spain and France making it its border. Right in the middle of that border lays the small country of Andorra which is known to be the state of the highest life expectancy in the whole world. People living in Andorra are 81 years old on average, considering how lovely and clean nature is in the Pyrenees, we are not surprised.
It doesn't matter if you are a photographer, hiker, stargazer or you just love to camp outdoor, Pyrenees got something for you. Beautiful nature scenes, waterfalls, forests, animals, these are all things you'll definitely see there. If you'd like to know more about the Pyrenees and how to camp there, keep reading!
Is it legal to camp in the Pyrenees?
Since it's very important to abide by the law, you probably want to know if it's legal to camp in the Pyrenees? The easiest answer to this question is it depends. It depends on which zone you are in, while you are on the French side, you have to follow their rules, and while you are on the Spanish side, they got their own rules.
If you find yourself on the French side of the Pyrenees, take a look at the picture down below to see the zones. Ignore the top zones, simply look at the ones near the Pyrenees. There are three zones in the Pyrenees and these are N03, R43 and R46.
If you are in the N03, you can't wildly camp, however, you can do something that's called "bivouac". Bivouac is when you stay overnight if you are more than one hour walk from the campsite or the nearest road. You can do it between 7 PM and 9 AM.
When you are in the R43, wild camping is also prohibited, but you can bivouac around the refuges and even around the hiking trails.
There are no rules regarding the R46, but that doesn't mean you are free to do whatever. You still have to abide by the national law and that usually means wild camping is only permitted if you are not on private property. In case you are, you'll have to get a permit from the landowner to do such a thing.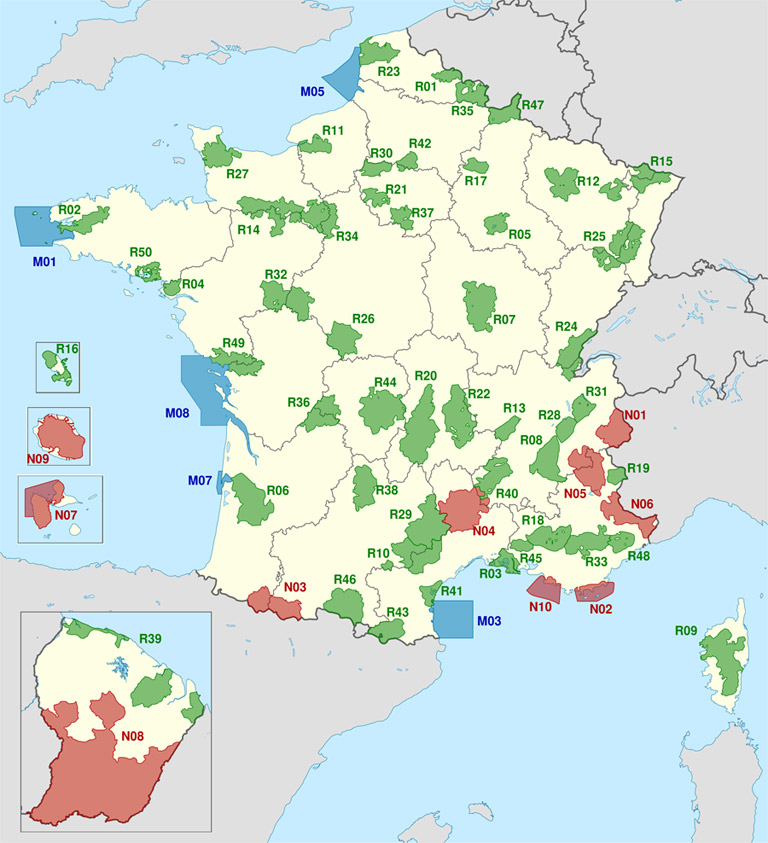 All this being said, most people who have ever camped in the Pyrenees will tell you the same, camping is fine as long as you are not in someone's backyard or lighting a fire. Try to keep your camp somewhere in the mountains or in the forest where there are no houses nearby. Do not stay more than one night, and stay on the move.
Weather in the Pyrenees
Since it's hard to pinpoint one type of weather in the Pyrenees, let's go over a few parts of it. If you are on the French side of the Pyrenees, you'll often find yourself in wet conditions with winds blowing all over. For this type of camping, we suggest you take a look at our list of heavy rain tents.
If you are looking for a dry and sunny part of the Pyrenees, you'll need to go over to the Spanish side of it. Most of the Pyrenees on the Spain side sits in a rain shadow which means there are patches of land that were forced to become desert-like with lots of suns. That being said, it's not a strange thing to see thunderstorms during August and July.
The best time for camping in the Pyrenees is from June to early September, but on the Spain side.
The best time to go camping in the Pyrenees weather-wise would be from early June to around mid-July. During this time the weather will be the most stable and there are a lot of different flower types which complement nature beautifully.
Don't get tricked by the summer. During August, you will mostly have hot days, but it can get very cool during the night so make sure you bring some warm clothes with you.
Official campsites in the Pyrenees
Find a camping spot in the wild can be tricky and sometimes even illegal. If you prefer to stay at an official campsite, that won't be a problem since there are over 200 different campsites you can stay at. The prices are really affordable and you'll be able to stay the night knowing you got everything you need.
Enjoy this map of the best official campsites in the Pyrenees
1) Camping Airotel Pyrenees
This 5-star has everything you need, from cottages, mobile homes, apartments to the "parking" slots for your tents or mobile homes. The costs are generally low, but it depends on which part of the season do you plan to come to.
It includes basic stuff that you'll need such as running water, electricity, etc. If you like luxury stay, then you'll love the super-comfortable apartments you can sleep in. There are is also a WiFi connection, grocery stores, bread, and hot drinks depositors.
The only minus we've found with this campsite is that it doesn't include a bar or restaurant, but since it's close to the village, you have plenty of options nearby.
2) Nou Camping Plots
Whether you like to sleep in a camping tent or in a bungalow, Nou Camping got you covered. It has three different plot sizes which you can reserve to stay on.
Standard – The area size is approx. 60-70m2, it has an optional electrical connection and you can bring your pet companion with you as well!
Superior – This one is a bit larger and ideal if you plan on coming with a motorhome since it's 75-90m2. It also has an optional electrical connection and pets are good to come.
XL – The largest plot that you can rent which is 95-105m2 in size and just as the two options before, optional electricity and pets are welcomed.
3) Camping Pyrénées Natura
This 4-star official campsite is open to newcomers who plan to pitch from the 1st of May till September 30, in case you are looking for accommodation then you can visit from 10th of April.
There are 19 very comfortable mobile homes and 53 pitches where you can camp with your tent or motorhomes. There is plenty of different flora & fauna you can find in nature nearby.
If you are bringing your kids with you, you'll love the fact that there are many different activities such as giant board games, a mini animal farm, a relaxation room with a billiard pool inside and a window looking at the mountains, and even more!
There are many different sporting activities such as horse riding, river fishing, or even paragliding!
4) Camping Pyrenees Orientales hikers
This official campsite also provides different accommodation options for its visitors. You can choose from different options based on the price and your desires. Some houses do not have toilet blocks so take that into account.
You can also choose if you would just like a pitch without electricity or one with it. Find everything listed in the pricing list on their website. This campsite doesn't have super luxury options such as restaurants or saunas, but since you are here to camp, do you really need them?
It's approximately 67km far away from the nearest city at the coast, Le Barcarès. Once you finish camping you can make a plan to visit there as well!
5) Le Pre Lombard
This campsite is filled with different offers for its visitors. From pitches, 2-bedroom rentals, 3-bedroom rentals, prestige rentals to even offering furnished tents that you can rent.
The prices are affordable for everyone who wants to visit.
Besides offering you a spot to stay at, there are plenty of other offers such as restaurants, laundromats, wellness areas, bars and snacks, and more! If that's not enough for you, how would you react if we told you it even has a swimming pool?
There are also different sport offers that you can take on to relax your mind.
Wild camping tips
We have prepared some useful tips if you plan on visiting the Pyrenees.
If you plan on camping in the wild, out of the official campsites, there are things you should keep in mind to avoid getting caught. The first thing is to avoid crowded places. As obvious as it sounds, some people think it's okay to camp if you see plenty of other people camping around you, but that will just increase the chances of getting caught.
Avoid pitching your tent near the roads or near someone's home. Chances are, that's private property and the owner can call the police on you. It's best to find places such as the forest or the mountain to stay stealth, you can also take a look at our list of best camouflage tents which will decrease the chances of getting caught.
Even though there aren't many poisonous snakes in the Pyrenees, double-check the bushes before you crouch somewhere. Keep your tent closed during the night and remember to move as early as possible in the morning.
---
In case you are looking for more camping trips and tips in Europe, we've covered Dolomites, Andalucia, Algarve, South Downs, Sardinia, Switzerland, and Poland.
Related articles