Hammock camping is the best to relax and feel nature. The first thing that comes to mind while hammock camping is two trees, ideally at a distance of 13 – 18 feet. But what if you don't find suitable trees? Then how to hang a hammock without trees?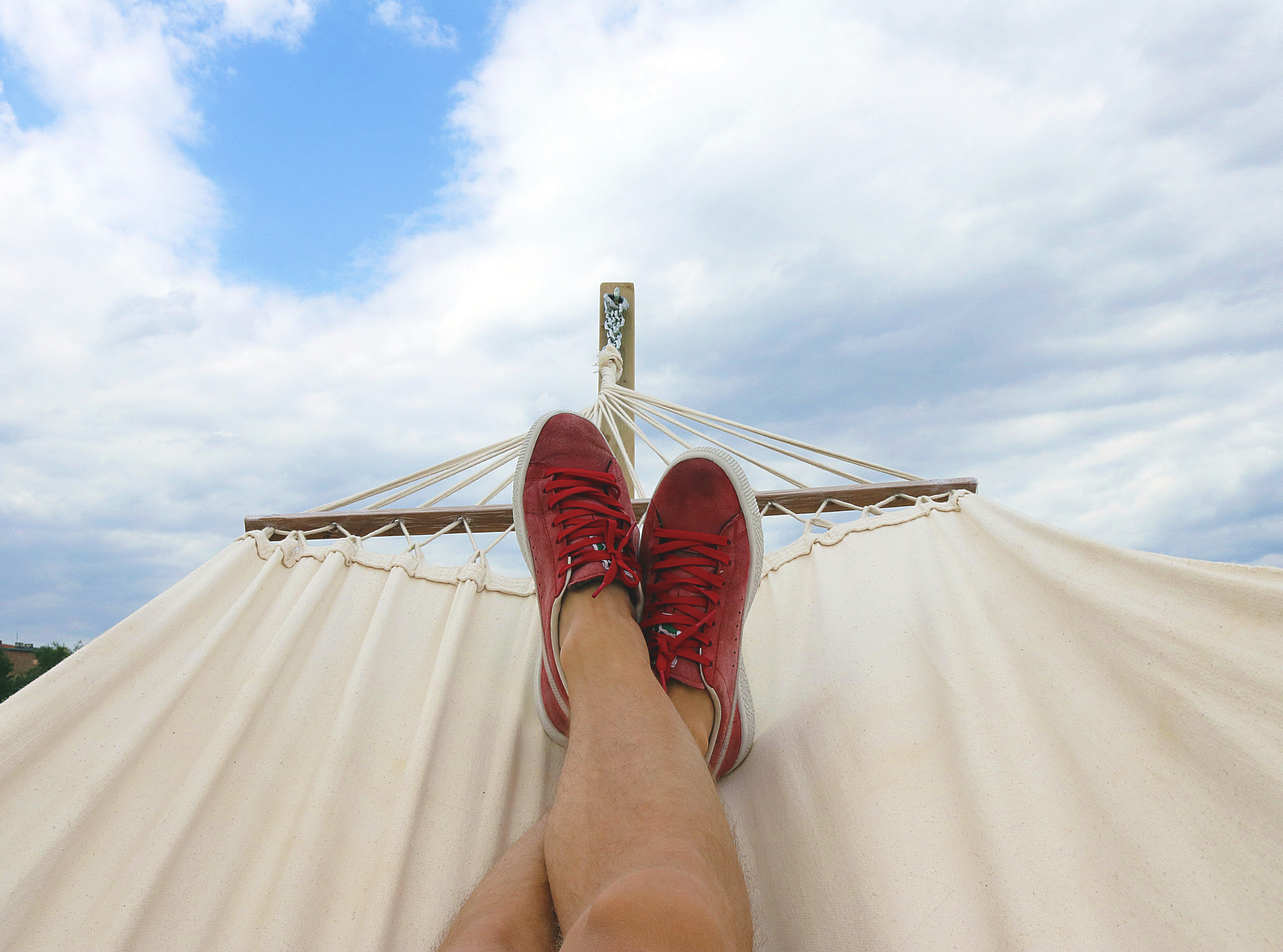 Technological developments have provided a solution to this problem. It is possible to enjoy hammock camping without the need to tie rope or straps to trees. You can buy a few DIY methods and items to aid you in the best setup. I hope to provide information on how to hang a hammock without trees.
Today, I will share five DIY methods to hang a hammock without trees.
5 Ways to Hang a Hammock without Trees
You might have a hammock in your backyard hanging between two trees. But you can' take those trees with you camping.
Don't assume you will find a perfect pair of trees while camping. Instead, take the right equipment with you for hammock camping. The equipment will help you install the hammock firmly in the ground without trees.
Several tree alternatives can provide sufficient support for comfortable and refreshing camping sleep. These could be hammock stands, rocks, and so on.
Here are some useful tips for enjoying hammock camping without trees;
1. Portable Hammock Stand
A portable hammock stand is the most convenient option for camping. The DIY hammock stand is lightweight, portable, stylish, and a space saver.
Hammock stands are one of the fastest ways to hang a hammock without trees. You can easily find a DIY stand in outdoor gear stores. With many options out there, you can choose according to your hammock style and size.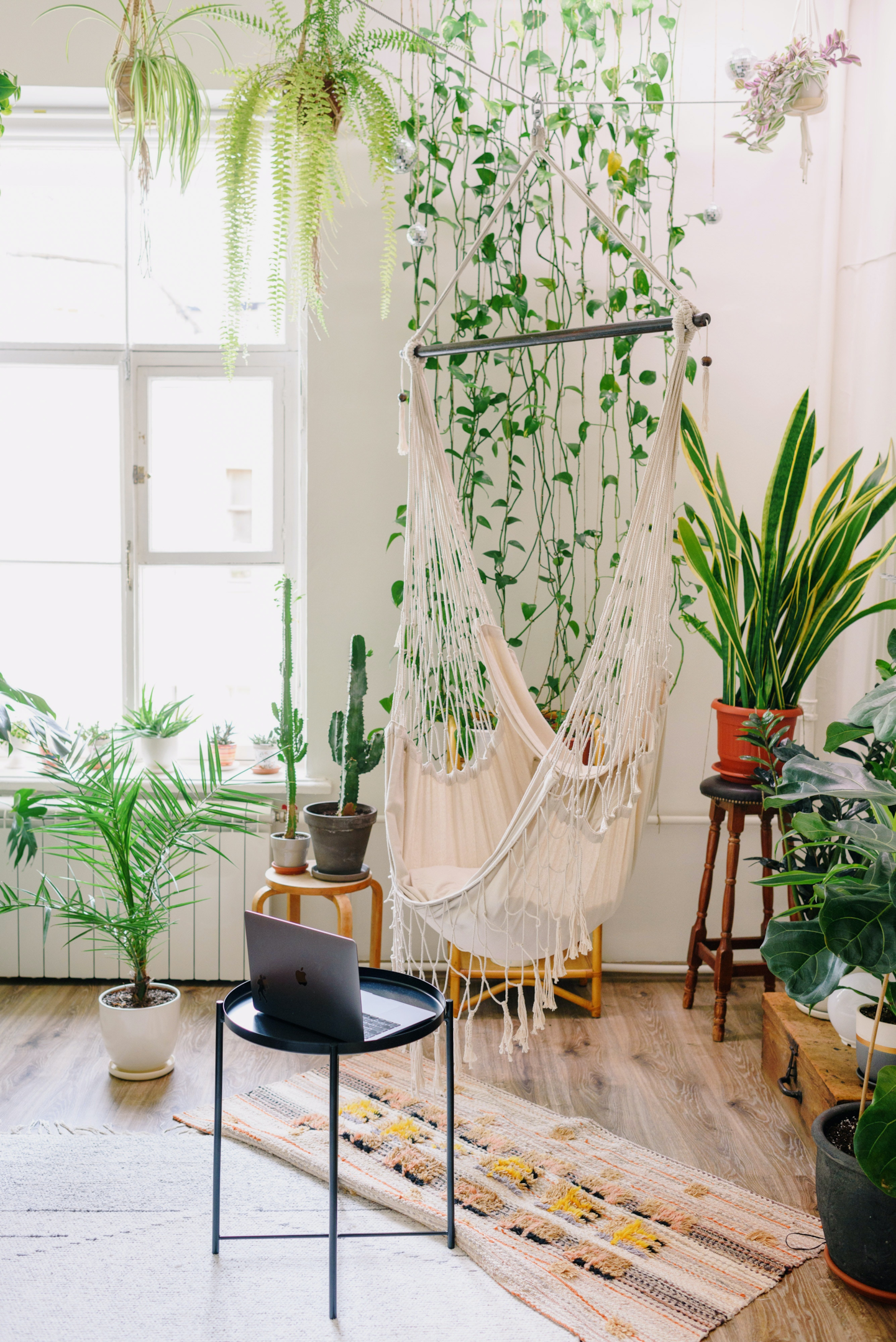 Here are a few things that you need to keep in mind while picking a portable hammock stand;
It should be compatible enough with your hammock's spreader bars. The long bars at each end of the hammock make the fabric strong. Most hammock swings accommodate camping hammocks with and without spread bars. It is important to note that hammocks with spreader rods are more susceptible to impact.
Most hammock stands are four feet wide, but the length of the stands may vary. Measure the length of the hammock and add two feet to that measurement. For instance, if your hammock is 12 feet long, choose a 14-foot base. Don't worry if you choose a base two feet longer than the length of your hammock. You can add a simple hook between the tip of the hammock and the bottom bar to the hammock stand. Typical hammock base lengths are 5 feet, 9.5 feet, 14.5 feet, and 15 feet.
Depending on the hammock structure you choose, the hammock can support a maximum body weight of between 350 and 500 pounds. Double hammocks are usually more stable. Be sure to check the specifications of the model you are buying. When you hang your hammock with your stand, ensure both are powerful enough to bare your weight.
Hammock Stand Portability
When it comes to the portable hammock stand, it all depends on where you want to use the hammock. If you want to use it in your backyard, you don't need to move your backyard hammocks so often; you don't need a portable stand in such a case. For a camping site, you must invest in lightweight hammock stands.
2. Attach With Huge Rock
Huge rocks are ideal anchor points when looking for a solution on how to hang a hammock without trees. They comfortably support the hammock and let you enjoy an outdoor adventure.
Hanging a hammock with rock is quite a straightforward method.
All you need to ensure the distance between two rocks is 10 – 18 feet apart. The other important thing is they are huge enough to bear your weight. This usually means the preferred height of the rock should be at least 6 to 8 feet tall.
There are many options for hanging hammocks on rocks. For example, you can choose a long piece of cloth or a piece of wood and wrap it around a rock to make an anchor point.
Alternatively, you can use a climbing tool to attach it to the pile. However, if you use climbing equipment for your training, follow proper instructions and procedures to avoid injury.
3. Hang a Hammock Between Two Cars
While looking for the perfect location to hang a hammock without trees, two vehicles are the best option.
This is probably one way of hanging hammocks without trees that many people outside have seen sleeping soundly in hammocks.
An SUV, pickup, or jeep is a great case for mounting a hammock and attaching the other end to a sturdy tree or other vehicles.
Consider a tower or roll for where to secure your hammock in your car. In a pickup truck, think of his hook in the trunk.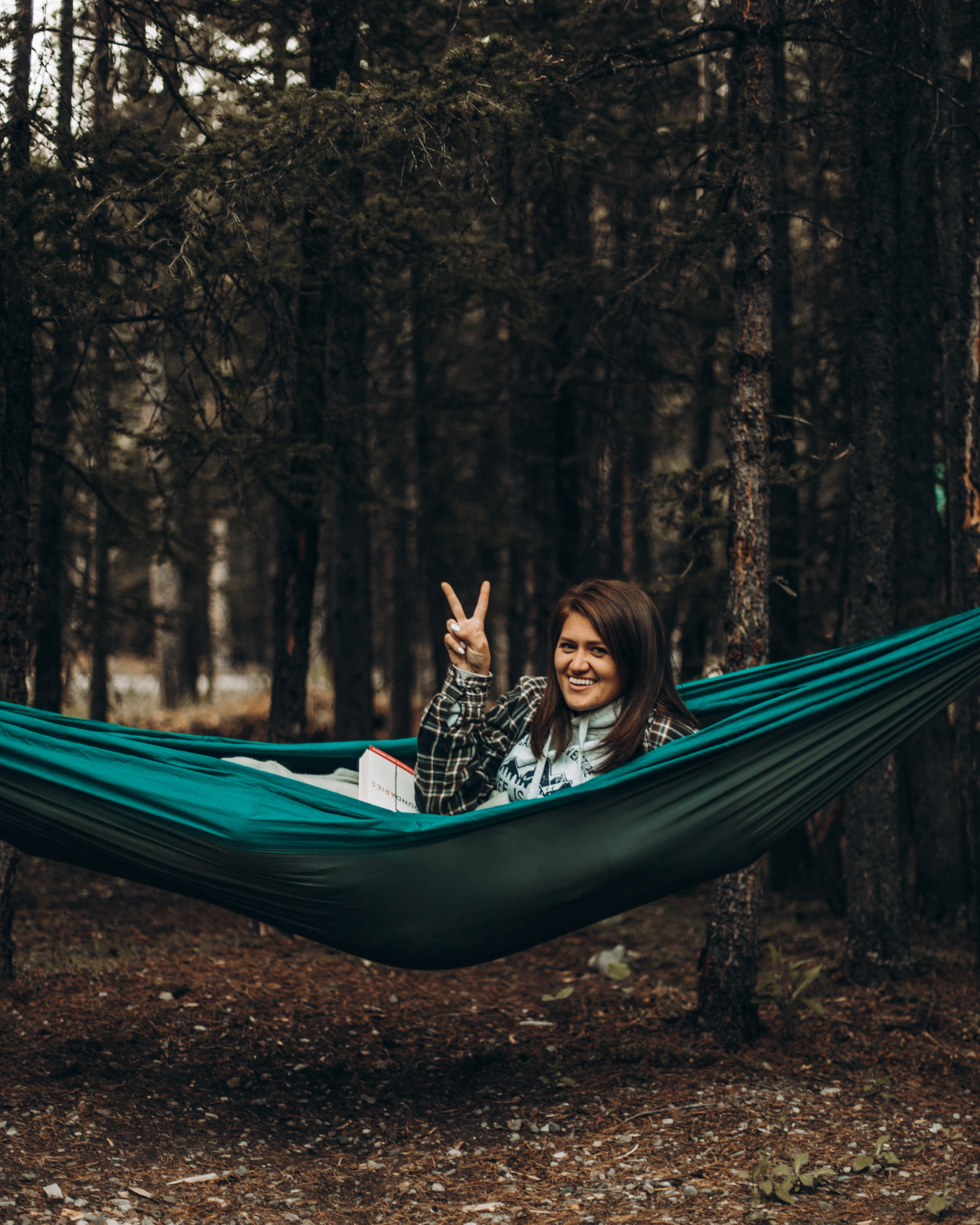 Hanging a camping hammock can be fun if done correctly.
4. Hammock Poles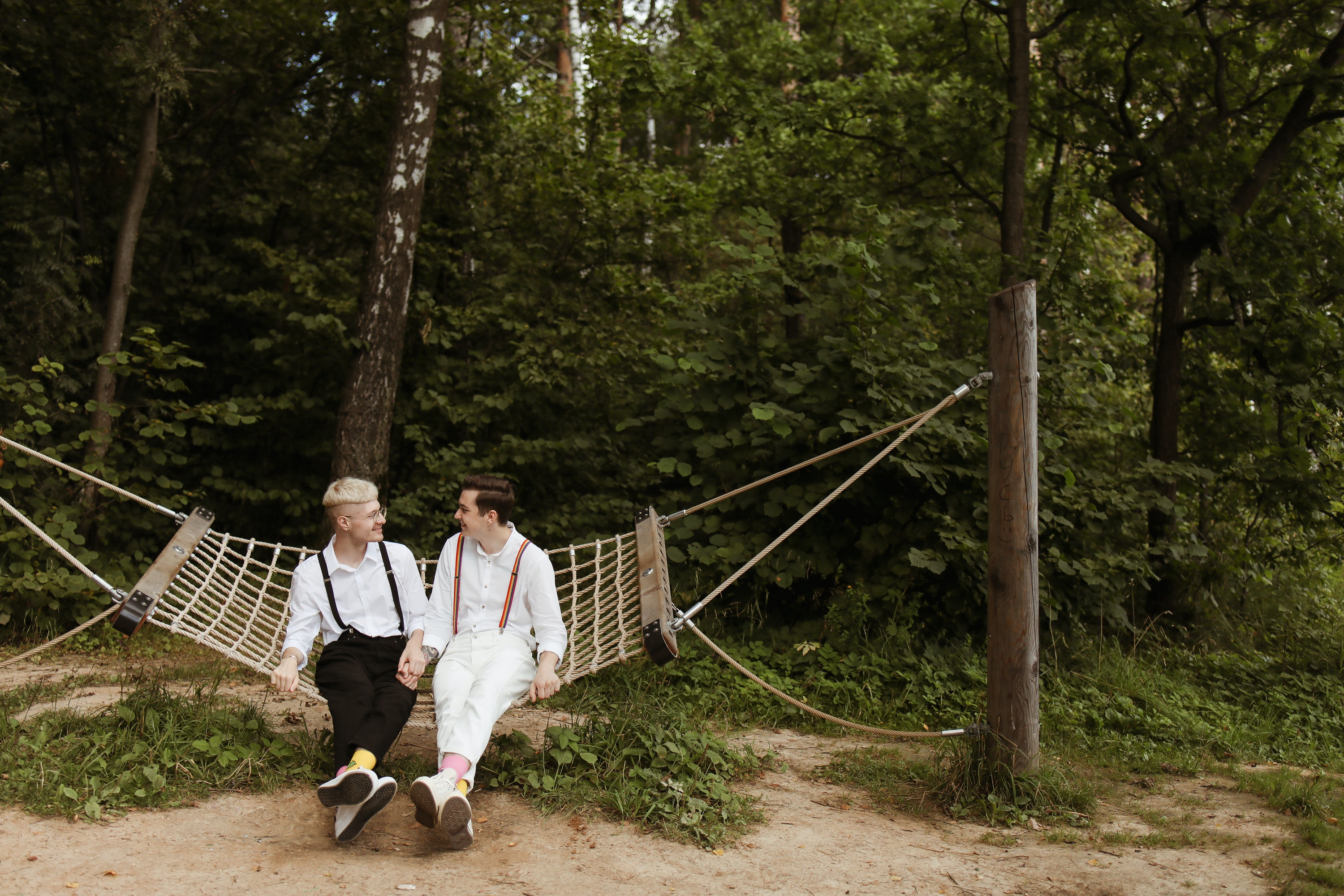 Hammock poles are cheaper for those who cannot afford hammock stands.
Additionally, they can be found in various forms, from wooden posts to trekking poles.
Once you find the right place to create anchor points, you should do the following:
Dig holes in the ground for your hammock pole. These should be about two feet deep, 10 to 15 feet apart, and 4 to 6 inches wide.
Place poles in each hole and fill the holes with concrete. Maintaining your poles is important to prevent them from collapsing under load.
Wait about 12 hours for the paste to harden.
Add a J-hook to each pole as an anchor point to attach the hammock.
Tie one end of the hammock to each pole and adjust the tension until you have perfect balance.
If you are camping in an area with telephone poles or old fence posts, you can use them to hang your hammock. But be careful never to tie the camping hammocks with electrical poles.
5. Attach With a Building
Also, if you plan to camp in an urban area, you can use the outside of your house to hang your camping hammock.
Even in national and state parks, you can find pavilions and umbrellas. These houses can be great places to place a camping hammock. They also offer hammock posts that are free to use.
For this method, you will also need a strong pole to attach the other half of the hammock. This method is easy to use, but care must be taken when installing the hammock inside the enclosure, including strong hooks and screws to ensure it is safe to use.
Factors To Consider While Hang A Hammock Without Trees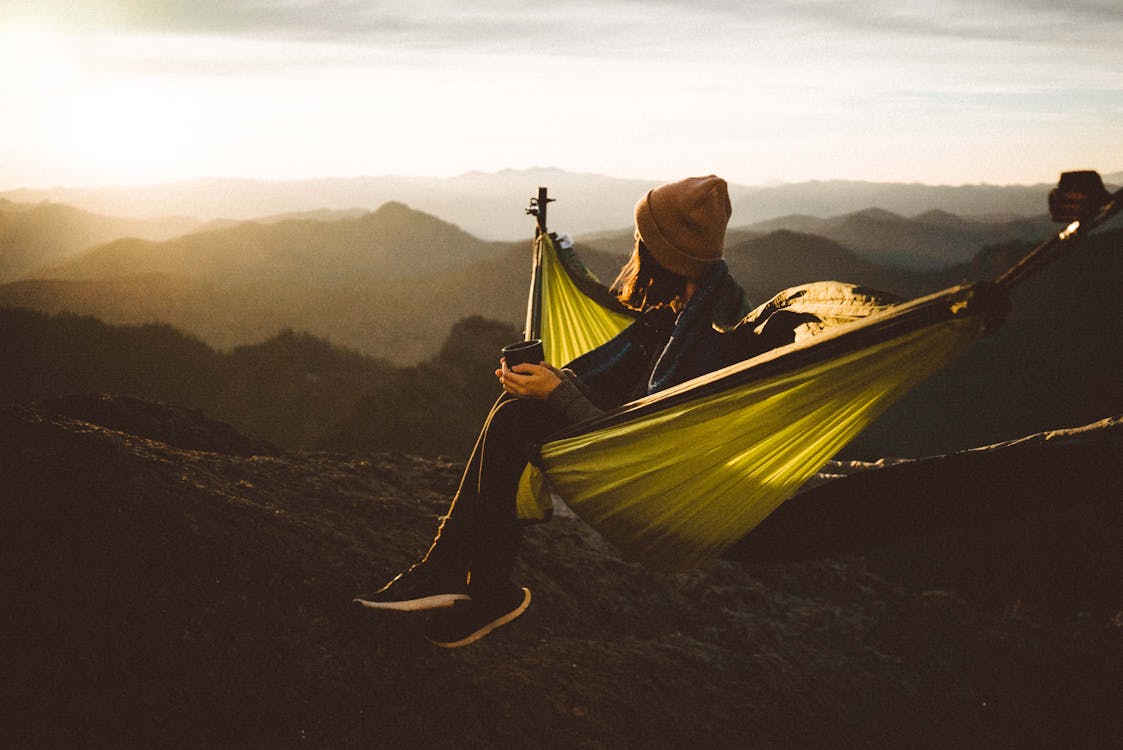 Before installing a treeless wooden hammock, it is important to determine the correct location of the site.
Make sure the site you choose is not rocky, as this increases the risk of injury if you fall out of the hammock.
You may have first aid, but you must take every precaution to avoid it.
Most hammocks can stretch up to 18 feet, but you can reduce the distance to 10 feet.
These considerations are very important when choosing a support system for your hammock.
It also helps you know if you need more ropes and ropes to hang your hammock if the space you choose is wider than the space allotted.
Avoid swinging your hammock too high, as this increases the chance of serious injury if you fall from the hammock.
For most people, the best size is four feet. However, you can increase or decrease it slightly, depending on your height.
Try different levels to find the one that suits you best before relaxing in your hammock.
Place your hammock 4 feet above your height if you are under 5'9″. If you are 5'10" or taller, increase the height to 4.5 feet. This is because hammocks are stretchy.
Nothing is as frustrating as a potentially dangerous one that falls out of your lap.
The best way to prevent such situations is to secure anchor points before you get comfortable.
Consider repeatedly testing the anchors and the integrity of the ropes and straps that support your hammock.
Wrap Up!
You don't need trees to set up a hammock. You can use the existing structures in your yard to secure the hammock and enjoy some relaxing time.
Hammock stands and structures provide an effortless setup. However, they differ in terms of durability. So, compare several options before settling on one. And remember, whatever method you choose, you should follow the recommended height and distance. Don't forget to choose the right spot and prepare the area to ensure it offers a safe landing if you fall.